Wow this week has been busy for me! Working at camp is definitely exhausting but also very, very rewarding. I definitely cherish my weekends more than before and try to make the most of my (short) time off!
Here are your links for the road!
Breakfast With Bevan: Taylor Swift // Teen Vogue
Whether you love or hate her - you can't deny that Taylor Swift gives a great interview. On this episode of Breakfast with Bevan, Taylor chats about her biggest fashion regret, friendships and her style icon (Audrey Hepburn all the way!)
I LOVE these photos by the women on the Harvard rugby team. Through this photo essay, they are hoping to inspire women to love their bodies and stop looking at themselves as purely physical objects. I love this because as a science major, I get to learn about all of the amazing things our bodes can do, and as a woman it pains me to see society only focus on the outside. This is definitely something all women should read!
I quite excited about the new wallpaper line by Rifle Paper Co. I'm a huge fan of their stationery - so why not hang it on my walls? There are a handful of prints (including a pineapple print!!) and they're all perfect to liven up any space.
This is quite hilarious. Artist Liza Nelson perfectly captures what certain emojis would look like if they were real. I was laughing so incredibly hard while browsing her site. My favourite image (and most used emoji) is definitely the one pictured above.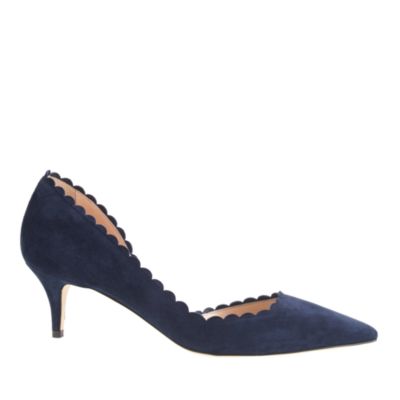 Scallop Heels / J. CREW
Imagine the heart in eyes emoji....that is my face right now. I love EVERYTHING about these shoes and I need them in my life. How cute would they look paired with a white shift dress or dressy shorts and a flowy top. Swoon.
What are your weekend plans?