Happy Friday! This has been such a great week. You may have noticed that I am now a part of the Her Campus Blogger Network. I'm really excited about this because I'll get to connect to so many amazing bloggers while growing The Preppy Scientist!
I'm also heading home for the summer which is something I'm looking forward to. I haven't had a real 'break' in a long time - so I think this will good for me!
With that said - here are some links for the road!
Sara Bareilles - I Choose You
I love this song already - but the video makes it so much better. Grab some tissues and watch Sara help out two awesome proposals. You will need the tissues (trust me).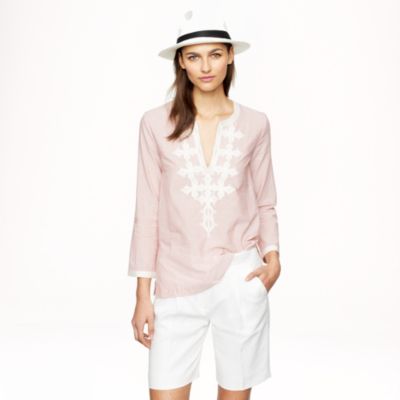 I love tunics and this one just takes the cake. The embroidery is flawless and the subtle stripes are fun. I think this is a great piece that can be worn to the beach and beyond!
Bee Schaffer sits down with Andrew Bevan
Bee Schaffer is Anna Wintour's daughter and in this really cute interview, she talks about growing up Wintour and opting out of pursuing a career in fashion.
The Croque Madame
I saw this on Pinterest and immediately needed to find the recipe. It. Looks. Delicious. Plus it's a French recipe (and I really love French food) so I'm really excited to try it out for Sunday brunch. I think this would go great with a creamy iced coffee and some berries!
What are your weekend plans?
xo