Though I have a lot less responsibilities these days, I still feel like I'm always on the go. To be honest, some days I'm willing to take shortcuts during my morning routine in order to make some more time for sleep! If I can get something done in under 5 minutes these days, it's a victory.
Enter breakfast. My admittedly most missed meal (hello alliteration) of the day. Some mornings I really just need to get out of the door, and if that means no breakfast then I'm stuck with a grumbly stomach until lunch. I'm really trying to change this bad habit and so far this breakfast burrito recipe is a huge help.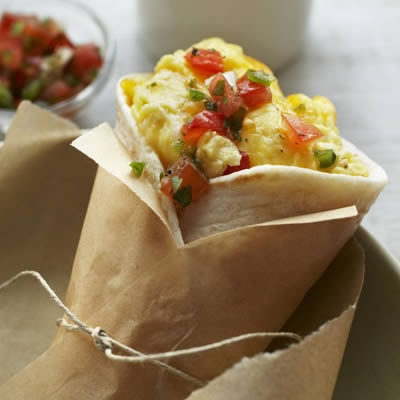 Recipe: Line 2-cup microwave-safe cereal bowl with microwave-safe paper towel. Press tortilla into bowl. Break egg into center of tortilla. Beat egg gently with a fork until blended, being careful not to tear tortilla.
Microwave on high for 30 seconds; stir. Microwave until egg is almost set, 15 to 30 seconds longer.
Remove tortilla with paper towel liner from bowl to flat surface. Top the egg with cheese and salsa. Fold bottom of tortilla over egg, then fold in sides.
First off how delicious does that sound? And it really only takes 5 minutes!
Grumbly stomachs no more!